To wear or not to wear, that is the question
15/08/2010
Two thousand kilometres, and I've not even brought a helmet. Am I mad?
Cycle helmets are designed to give essential protection to the most important part of your body. It absorbs some of the impact on collision, and can make the difference between death and survival, brain damage and a lucky escape. An obvious safety precaution then, strongly recommended by the British powers-that-be, and law in some countries such as Australia and parts of the USA. Cycling publicity in the UK almost entirely depicts cyclists with helmets, and photos in newspapers that show people without generate angry letters denouncing the irresponsibility of suggesting that you shouldn't wear a helmet. If not by law, everyone should be strongly encouraged to wear a bike helmet.
Shouldn't they?
The counter-arguments - and there are a few - don't receive so much press. As some of you, my readers, have already expressed surprise that I've not got a helmet, I thought I should explain why.
Firstly, from a broader point of view of society, the expectation that you need special equipment (such as a helmet) to do such an activity deters people from doing it. As cycling is an extremely healthy activity, any reduction is detrimental to the nation's overall level of health. After the legislation came into effect in Australia, the number of people cycling dropped markedly, many presumably switching to cars for transport, or watching TV for leisure. This has three effects:
less healthy lifestyle overall leads to more heart disease etc etc
more car drivers - environmental damage
higher car/bike ratio means that remaining cyclists are LESS safe, as the car drivers are less likely to consider them
Secondly, studies by Ian Walker of Bath University have shown that car drivers will drive closer to cyclists wearing helmets than those without, therefore putting them more at risk.
Thirdly, the level of protection offered by a helmet is hotly debated. In general, impacts with other vehicles are likely to be too severe for the helmet to be of much use, and falling off your bike will rarely lead to a serious head injury anyway. Yes, of course there are cases where bike helmets have likely saved lives in both these cases, but they many researchers now think they are pretty rare.
Travelling across Europe, I find hardly anyone wears helmets. In the Netherlands, they would find it as absurd a thing to do as wearing a suit of armour when out walking. The only people that do wear them are the hard-core racing cyclists kitted out in all the lycra gear, and then it becomes just part of the uniform. They are also going at much higher speeds were falling off would result in a higher impact, so the helmet makes more sense. Absolutely no-one on a leisure, commute or touring ride wears a helmet. The same is pretty well true in Germany too, though I've seen a few children with helmets on, and possibly two adults during the last two weeks.
The risk of death and injury from cycling goes down the more cyclists there are, and in general the more that helmet wearing is enforced, the fewer cyclists there are. These graphs are from www.cyclehelmets.org where you'll find lots of other information about the helmet debate.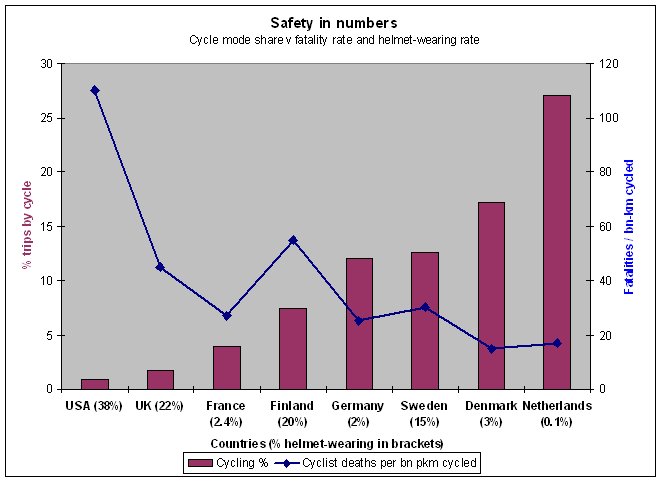 On the day I set out I wondered whether I should bring my helmet after all. It would have been a hassle to carry an additional item, and as most of the time I've been on paths separated from traffic, I've felt perfectly safe without. But even when sharing the road, I don't overall think it makes sense to bother, and if one more person on the road dressed in normal clothes can encourage anyone else to think that cycling is for everyone, then that's a job well done.
What do you think? Comments below!